Yemeni Village Restaurant:
Case Study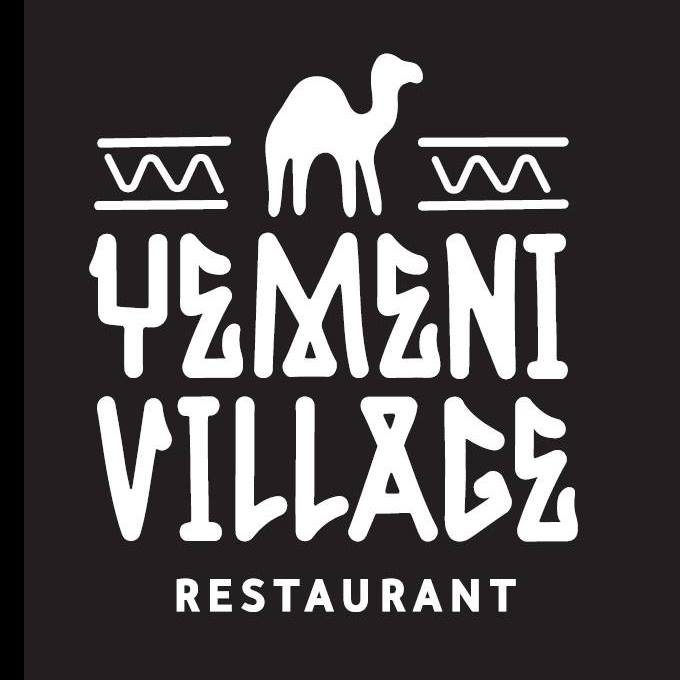 Problem:
Yemeni Village, located at the west end of downtown Calgary, is a highly regarded and often praised Halal restaurant serving traditional Yemeni cuisine. Everything about this restaurant from the giant style plates to the Apple iPad menus is unique… Wait, iPad menus?
You read that correctly. When I first walked into Yemeni Village back in February 2021 and chatted with management about their menu solution, I was shocked to learn that they had iPads to pass around the restaurant as menus. This was pretty cool but with only a few iPads, surely guests would wait for long periods of time, forced to grab their smartphones, and start searching online for the Yemeni Village Menu. Obviously, iPads were an expensive, and inconvenient solution as we were in the middle of a pandemic, and they were constantly charging these things and sanitizing them hundreds of times per day. There had to be a better way…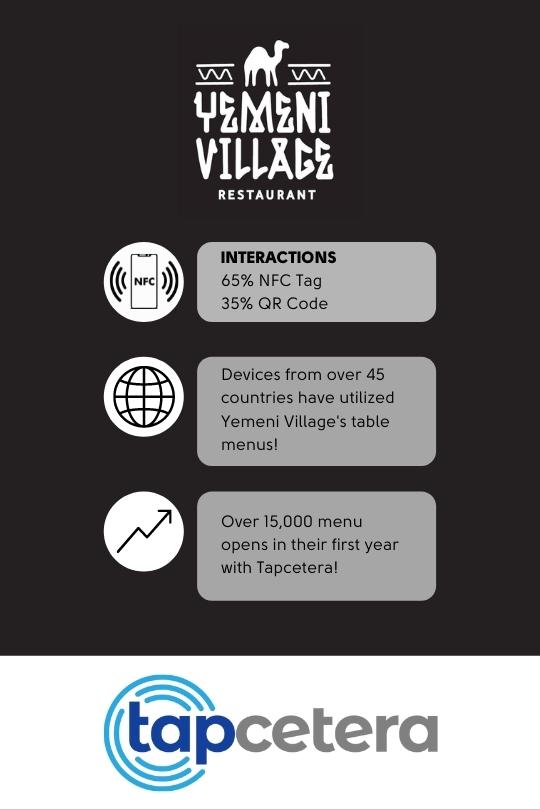 Tapcetera Solution:
We installed our Tapcetera touchless menu stickers on all their tables shortly thereafter. Featuring a combination of NFC and QR touchless technologies, they were an instant hit, and the usage numbers were staggering. In just the first abbreviated month, they had over 700 menu opens. In the months to follow they averaged over 1200! Customers were now able to sit down at any of the tables, indoor or patio, and enjoy instant, easy access to Yemeni Village's menu and digital content.
With a modest diameter of just 2 inches, these stickers are noticeable when needed but remain inconspicuous against restaurant décor. At the top are the words "TAP FOR MENU" and they feature a simple design consisting of an NFC tap icon and a simple, low-data, QR code. They are made from a strong vinyl with high-tack and have a nice glossy laminate coating to withstand months of table cleanings and fidgety fingers.
Disaster averted!
In September 2021, I was contacted by management and asked to change all their sticker links from their menu, hosted on their website, to a new online hosted ordering system. Using our proprietary, cloud-based, tag management software (tapct.com), I was able to change all their tables within a few seconds. They were thrilled at this amazingly simple functionality, and although they could have done this themselves, they were happy for the assistance.
Now, fast forward a few months to the evening of Friday, November 5, 2021. I was contacted frantically by Yemeni Village management through Whatsapp, saying that their table menus weren't working, they were slammed, and they essentially had no menus for their guests. Logging into our software, I was able to determine that the Tapcetera stickers were functioning just fine, it was in fact the online ordering system that had gone down without warning. I suggested changing all the links on their stickers back to their menu on their website, and viola, within a minute, everyone had menu access again.
One of the many great features of our system is the ability to adapt and make link changes from anywhere, at any time. Our customer service and support are also pretty darn good!
Could your business benefit from Tapcetera technology and our touchless information system? Absolutely! Don't hesitate to send us a message and tell us about your business, or to learn more about how NFC tags can help you and your customers!
By: Jason Duff
Advantages of NFC Tags Over QR Codes
It is increasingly important for businesses to adapt and find ways to send their customers to information efficiently and contact free. Consumers now browse using their smartphones to learn about a company or product and make buying decisions. Forcing customers to type in complex web URL's is difficult and clumsy on a smartphone.
Easier alternatives have existed for many years in QR codes and NFC tags, however are only now gaining mass appeal. While QR codes can be a quick and easy contactless solution, there are many advantages to using NFC either in addition or exclusively.
NFC tags do not require a QR scanning app or camera to scan, simply tap the NFC tag and that's it!
Tapping an NFC tag is faster then scanning a QR code. QR Codes require time for the camera to focus, depending on the camera and complexity of the QR this can be a frustrating experience.
Many older Android models don't include an app capable of reading QR and require the user to install one on their own.
QR Codes require optimal lighting conditions. Extremely bright or dark lighting can make QR codes difficult to use. NFC tags work seamlessly and consistently regardless of light level.
NFC tags are more resilient then QR codes. A small scratch or marking on the QR code can inhibit the ability to scan it.
QR Codes are ugly and take up valuable marketing space that could be more effectively utilized for branding or other messaging.
NFC tags are near impossible to duplicate whereas QR codes are trivial to copy and re-produce. NFC tags shine in comparison to QR anytime a more secure solution is needed. One example of the ease in which QR codes can be exploited.
QR codes cannot be changed after printing. Using the Tapcetera system, the cloud backend controls the action taken from either an NFC tap or QR scan so there is never a need to re-install either.
NFC tags can be just as easy or even easier to implement than QR codes when used in conjunction with the free Tapcetera mobile app to program the tags.
Please reach out to us if you want to learn more about how NFC tags can help your customers!